Sales & Purchase Batch Invoice Entry


Save time and money with the new Sales & Purchase Batch Invoice Entry feature which allows multiple invoices to be entered against any number of Customers/Suppliers using one simple screen.
The product will allow the previous line to be copied to a new line at the press of a button further reducing data entry. The batch Total Goods, Total VAT and Overall Total shown on screen will aid in avoiding posting errors. Once satisfied the user may post the invoices to the Sales/Purchase ledger in a single process. A batch report is available for audit purpose.
The power data entry screen allows entry of the following:
Customer Account
Date
Reference 1
Reference 2
Sales Code
Goods Value
VAT Code
VAT Amount
The product supports the standard Realtime Update of Nominal feature and is fully customisable; please call or email today for further details.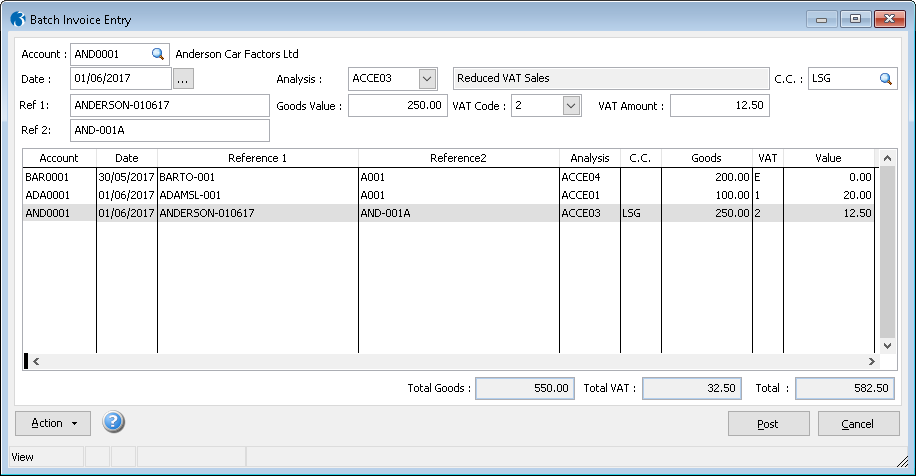 Please Note:
Not Supported:

PIR, Stock, Costing, Foreign Currency and EC VAT.
Batch entry of Credit Notes.
Invoices will not be printed.
Open Period Accounting & Advanced Nominal
Customisable

Sales & Purchase Batch Invoice Entry can be customised to match user's additional requirements.

Dependencies

Sales & Purchase Batch Invoice Entry requires Pegasus Opera Sales, Purchase modules and Toolkit feature.