Multi Stock Issue allows multiple Stock items to be issued, in one simple process. A reference is
recorded against each issue. 
The new Multi Stock Issue option found on the main Stock menu allows the user to run a multiple issue of Stock items. 
The user may enter the warehouse code, the Date, Reference and a Comment. 
When all selections have been made, OK updates Stock with the issue transactions.
Please Note
Stock to Nominal is not supported.
Historical Stock Valuation is not supported.
Stock will not be issued against allocations.
Batch and Serial Traceability is not supported.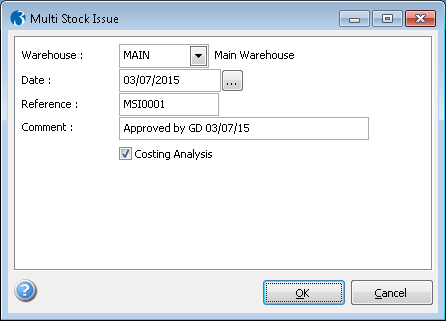 Customisable

Multi Stock Issue can be tailored to match user's additional requirements.

Dependencies

Multi Stock Issue requires Pegasus Opera Stock and Toolkit modules.