Sales Ledger Credit Stop enables multiple customer accounts to be put On Stop at the push of a    button, taking away the need to enter each customer's account individually and edit their Trading Terms.
A new menu item, Credit Stop, has been added to the Sales Ledger Utilities menu. Upon selection the user will be asked to enter a number of days.
Any accounts with an outstanding balance older than the number of days entered here will automatically be put On Stop and a report is produced listing which accounts have been put On Stop.
Any manual "Credit Stops" will remain as entered. When the Sales Ledger Credit Stop routine is re-run any accounts that have paid their outstanding balances will have the On Stop flag removed from their account.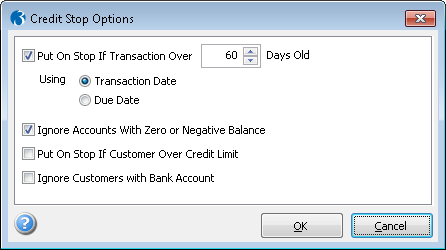 Customisable

Sales Ledger Credit Stop can be customised to match user's additional requirements.

Dependencies

Sales Ledger Credit Stop requires Pegasus Opera Sales Ledger and Toolkit modules.